New Home Construction Can't Keep Up With Housing Shortage
Posted by Stephanie Pierce on Wednesday, February 23, 2022 at 2:54 PM
By Stephanie Pierce / February 23, 2022
Comment
After Hitting a Record Low, Housing Inventory May Be Slow to Rebound
A shortage of available homes has fueled the ultra-hot housing market in recent years, causing prices to soar and demand for homes to increase.
Housing inventory hit a record low in 2021, reflecting "a lack of new construction, [and] surging demand from buyers and homeowners taking advantage of low mortgage rates to refinance rather than sell," a Redfin blog says.
In June 2021, there were only 1.38 million homes for sale on a seasonally adjusted basis, the lowest level in history and down 23.0% year-over-year, Redfin says.
As 2022 begins, demand still significantly outstrips supply, and the low-inventory market isn't expected to let up much this year, experts report. Realtor.com predicted that home inventory will only increase by 0.3% this year, while the number of single-family housing starts — when builders start construction on a new home — is expected to rise by only 5.0%.
In a time when shortages of workers and materials are common, new home construction simply can't keep up with the demand.
Demand for New Homes Exceeds Supply
Between 2012 and July 2021, 12.3 million new households were formed in the United States, while 7.5 million single-family homes were started, and 7 million single-family homes were completed, a Realtor.com report says. In June 2021, the gap between the number of new households and the number of new home constructions was 5.24 million homes, up from 3.84 million homes at the beginning of 2019.
"At the five-year average rate of home completion and household formation, the gap would only widen," the report says. "Assuming household formations continue at current five-year average, the average rate of home completion would have to triple to close the gap in home completions and household formations in five to six years."
It's important to note that this housing shortage disproportionately affects "starter" homes or more affordable homes. Only 32% of new homes were sold for less than $300,000 in the first half of 2021, down from 43% in 2018, the report says.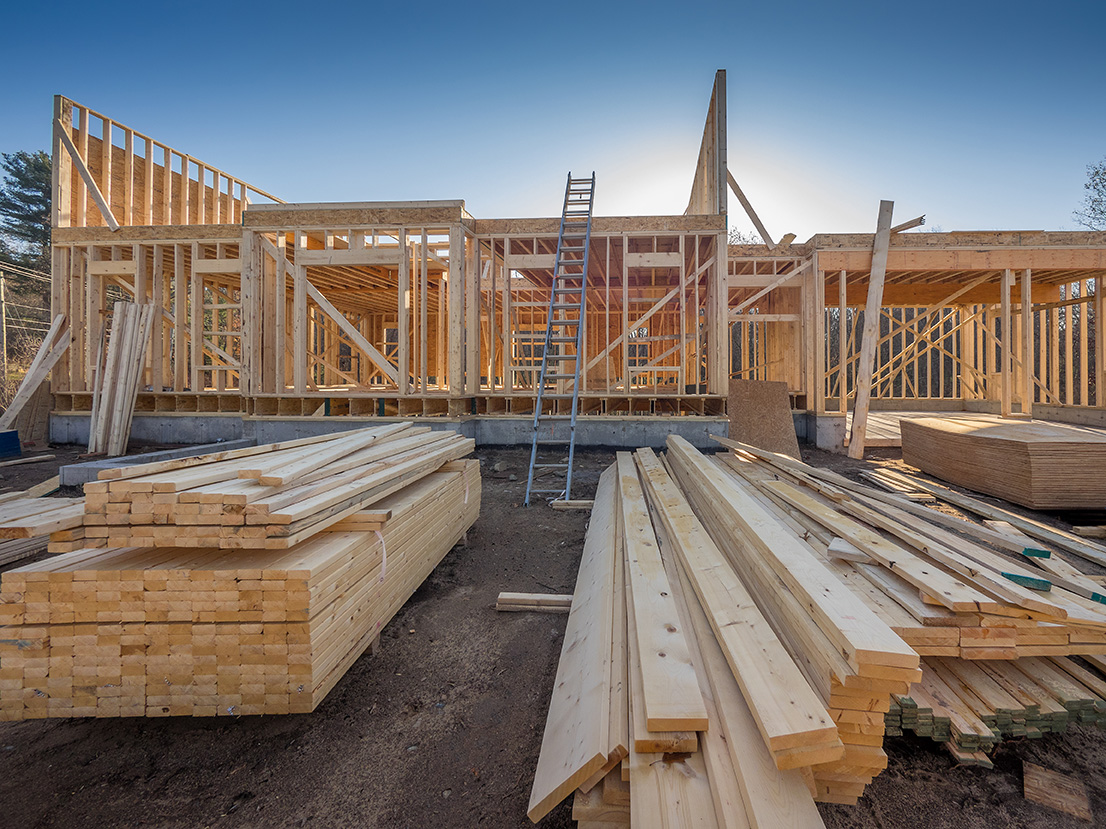 You might be wondering how we got here — and the answer is complicated. While many different factors collided during 2020 and 2021 to create this low-inventory market — from supply-chain delays and worker shortages that stalled builders' progress to some Americans' reluctance to sell their homes during a pandemic — this problem has been building since the Great Recession.
From 2010 to 2020, the total number of housing units only grew by 6.7% — about half the rate of growth seen in the previous decade, the U.S. Census Bureau says.
"This slowdown in housing unit growth was not unexpected," the Census Bureau explained. "The housing boom of the mid-2000s contributed to a rapid expansion of supply, while the housing crash and ensuing Great Recession of 2007-2008 resulted in an increase in the number of vacant units.
"Those issues, and the recovery that lasted well into the next decade, potentially reduced demand for new construction."
But over the past few years, housing demand has been incredibly high, pushing prices higher and creating the ultra-hot market that we're in today.
"The shortage of homes for sale, which has been more than a decade in the making, will keep home prices high," said Danielle Hale, Realtor.com's chief economist.
Not much will change in 2022, experts say.

However, a fall 2021 study found that an increasing number of homeowners planned to sell their home in the next 12 months, which could be good news for homebuyers, because "while buyers have been eager in the last two years, sellers have been on and off," says Realtor.com's 2022 Housing Forecast.
"With 28% of homeowners choosing not to sell indicating that the reason for doing so is because they can't find a new home to buy, a pick-up in inventory could be self-reinforcing, drawing out other potential sellers as they find homes to buy," the forecast says.
"Rising new construction will eventually feed into this posititrend as well, but first, builders' pipelines catch up to the usual balance of already-completed vs. under construction vs. not yet started homes."
The bottom line: "With homes selling and continuing to do so quickly, inventory will remain limited, but we expect to see the market rebound from 2021 lows," Realtor.com predicts.
2022 Construction Delays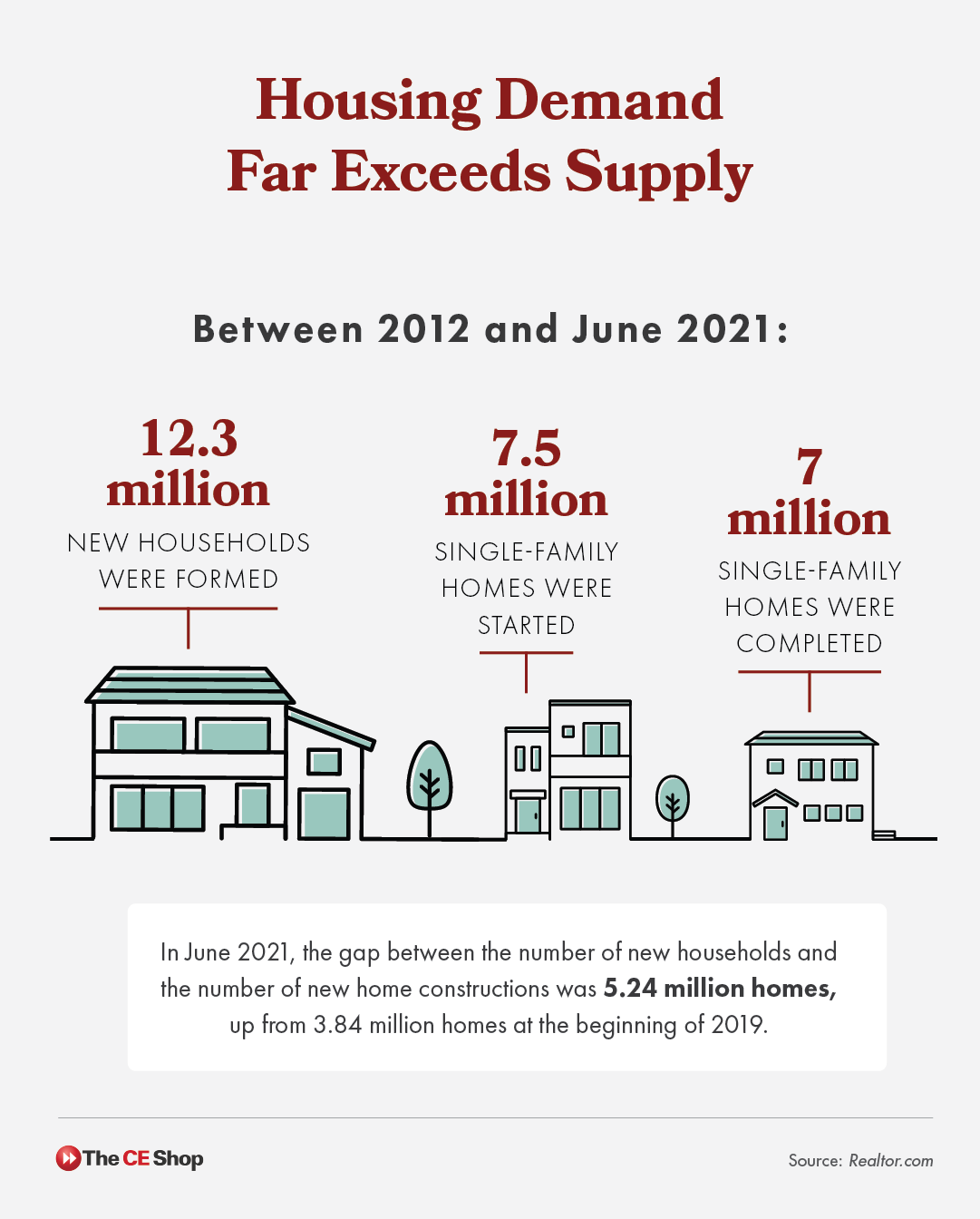 In 2020 and 2021, many home builders ramped up construction in response to the demand, only to face supply-chain delays and other challenges.
"Supply-chain backlogs are roiling the new home market, upending efforts to accelerate construction, limiting home-buyer choices, and causing some new owners to move into unfinished homes," The Wall Street Journal explained. It's led some homebuyers to move into new homes without crucial features like gutters or garage doors.
"Pandemic-related factory closures, transportation delays, and port-capacity limits have stymied the flow of many goods and materials critical for home building, including windows, garage doors, appliances, and paint," The Journal reported.
While some supply-chain issues seemed to be letting up at the end of 2021, builders still say that the process of constructing a home is taking weeks longer than normal, The Journal reported: "About 90% of home builders surveyed by housing-market research firm Zonda in November said they were experiencing supply disruptions, up from 75% in January 2021."
And "delivery delays can cause a domino effect of rescheduling work crews, which is worsened by a shortage of skilled tradespeople in many markets," The Journal reported.
All in all, it's a frustrating situation for builders and buyers alike.
Meanwhile, the cost of a new home has continued to increase, in part due to rising labor and material costs, The Journal reported. In November 2021, the median selling price for a new home was $416,900, up from $331,800 in February 2020, before the pandemic struck.
Although builders are working hard to increase housing inventory, this isn't a problem that's going to be solved quickly — and as a result, demand for homes is likely to remain high in 2022.
If you are wanting more information, fill out the form below and a member of our team will get back to you soon!

Resources:
https://www.wsj.com/articles/investors-arent-sure-about-home-builders-foundations-11642611694
https://www.wsj.com/articles/supply-chain-issues-leave-new-homes-without-garage-doors-and-gutters-11641724201
https://www.realtor.com/research/2022-national-housing-forecast/
https://www.census.gov/library/stories/2021/08/growth-in-housing-units-slowed-in-last-decade.html
https://www.realtor.com/research/us-housing-supply-continues-to-lag-household-formations/
https://www.realtor.com/research/2022-national-housing-forecast/
https://www.redfin.com/news/housing-market-records-2021/